Ayeeeee @writethedocs again in beautiful Prague!
Thanks to the awesome organizers, speakers, and everyone with whom we talked the days away or even simply clinked glasses – this was a conference to remember!
And just what I remember most, it's right here in this post.
---
#The_Catcher_in_the_Eye?
Whoa-whoa. Can you believe there's an analytics tool that captures the eye movements of the user?
Now we can actually check if the pictures of cute kittens in the API documentation would work… 🙂
Thanks to the awesome Michael Meng for the API doc stats!
---
#Peer_reviewed_by_Hemingway
A very sober editor to a very drunken writing. The Hemingway app knows a smartass when it sees one and helps make your text eccentrically simple.
---
#Keep_talking_and_nobody_explodes
If that ticking game does not teach us how to give quick and clear instructions, I don't know what will! Big thanks to Clayton Spicer for the reference.
---
#What's_your_job_again?
A poetic view of techwriter's nitty-gritty responsibilities by @MilaNavratil.
If information is clay, aren't we pottery makers?
If information is a mystery, aren't we detectives? (btw cool post about just how detectivy we are by our own Nataliia Bortkevych)
If information is bits and pieces, aren't we Lego builders?
And one of my own: if complex software makes you frown, well aren't we damn wrinkle softeners? 🙂 More in my soapconf 2016 talk: A story of one brand book.
---
#Once_upon_a_time_there_lived_a_feature_that_wanted_to_be_used…
On a misty autumn afternoon, cupping hands around a mug of hot choco, what better read to settle with than a data center operations manual… No, really. There's no saying how documentation can transform if you take principles for creating good fiction and write them into your docs, right @thursdayb?
---
#How_it_all_happened…
According to the results of this awesome survey, every third documentarian landed into their job by coincidence… Can't even begin to imagine the stories behind those job hires!
Thanks to @NagygyorgyKata for sharing the results. And hey, you can share your story too – poll the docs!
---
#Read_do_confirm_repeat
A very nice (pardon the play of words) down-to-earth instruction on how not to pilot your docs into the ground – create checklists that work! (by @ddbeck)
---
Oh, and just for kicks, one of the biggest doc dilemmas, so very well-phrased: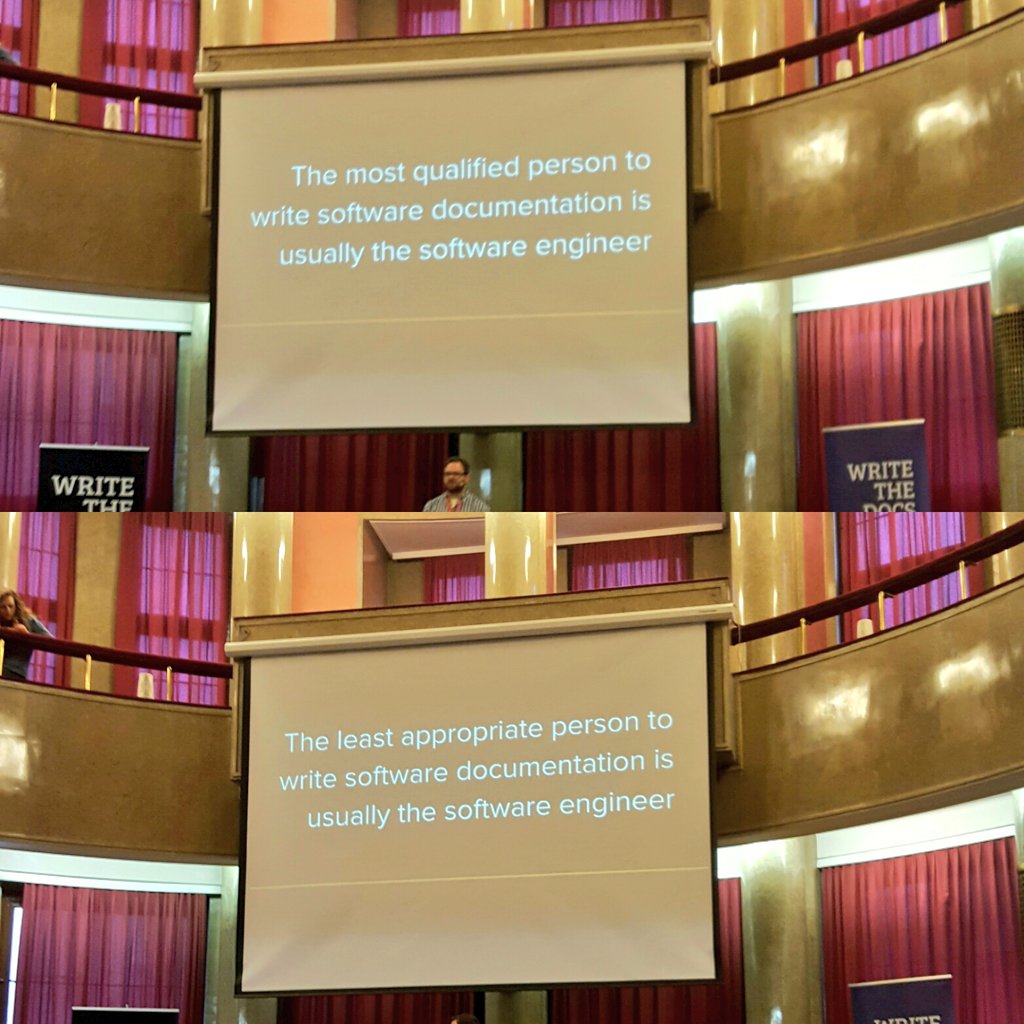 …and while we're on the subject, here's another goodie from the most bearded WTD organizer – @ericholscher – a blog post on docs value, written for devs in dev language.
More definitely than ever, docs or it didn't happen!
Related article: Write the Docs Europe 2016. Impressions